Book Review – SINK OR SWIM by Ross Collier
Sink or Swim Synopsis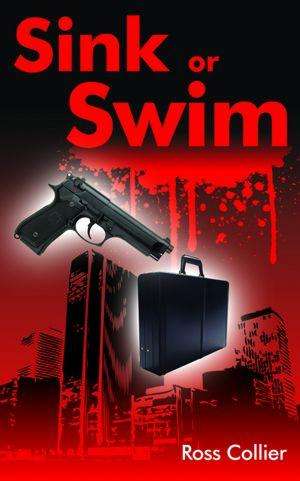 Harry Gordon, sports hero and merchant banker, finds that despite his best efforts, a year after taking over the family steel business it is on the brink of collapse. Then he discovers that the seemingly random events leading to this point are not simply related to market forces. In a race against time that becomes a matter of life and death, Harry is forced to draw on all his skill and courage to avoid certain disaster. (Amazon)

BOOK REVIEW
Sink or Swim is a good example of why, despite the many offers I receive these days to review titles from big name publishing houses I still make sure I find time for a few independently published titles on my review list. It can be risky, but every now and then you come across a gem.
In Sink or Swim Ross Collier delivers a compelling thriller with characters to love and hate.
His prose is not self-indulgent, his dialogue realistic and the story's pace snappy. His characters are everyday people we can all identify with caught up in extreme and thrilling, yet still plausible situations.
Protagonist, Harry Gordon, is a very modern take on the underdog character we Australians love to barrack for – a once tall poppy fallen on hard times.
Fate, no matter what it threw at me, I could accept. Manipulation was another thing entirely.
Ross Collier manages to pack so much into Sink or Swim, a relatively short novel at only 230 pages – industrial espionage, murder, arson, double-crosses a plenty and the settling of old scores. And in amongst all that, his protagonist also stumbles across a new romance.
I thoroughly enjoyed Sink or Swim – an engrossing thriller with something for everyone.
* It is also a bargain, with the ebook version available for only 99 cents (at the time of writing).
BOOK RATING: The Story 4.5  / 5 ; The Writing 4 / 5
BOOK DETAILS: Sink or Swim (Amazon); Sink or Swim (B&N); Sink or Swim (Kobobooks)
* My review of this novel counts towards my participation in the Aussie Author Challenge 2012 and Aussie Author Month.
Genre: Action-Adventure, Mystery, Thriller, Crime-Detective, Romance
Author Information: Ross Collier is an Australian author who lives in country Victoria on a small farm. His other books include The Fenians.
– Check out Ross Collier's website
Other reviews of Sink or Swim: Fair Dinkum Crime
* I received this novel in ebook format from the author for review purposes. My receiving this title at no cost did not impact my ability to express my honest opinions about it.